LENSES
The following is a concise look at the various lens options available prepared to help you decide what's best for you.
TYPE OF LENSES
Single Vision Lenses: If you are having trouble seeing up close or far away, single vision lenses can help you see better. They correct a single particular vision such as distance if you're nearsighted (a condition called myopia) or close up if you're farsighted (a condition called hypermetropia).
Bifocal and Multifocal Lenses: If you need help seeing up close and far away, you need bifocal or multifocal lenses. These lenses correct for two or more distances. There are three main types: bifocals, trifocals, and progressive addition lenses (also known as "no-line bifocals" or "progressives").
When two prescriptions come in one lens, it is called a bifocal. The term bifocal means literally "Two Focuses". It is meant to describe eyeglass lenses that enable the user to see clearly at two different distance ranges through one lens. Benjamin Franklin is credited with inventing the first bifocal lens by gluing two lens halves from different prescriptions together. Bifocals are used for many reasons, but the main reason is Presbyopia, a condition that affects every adult above the age of 40 years. Presbyopia is when the human near focus system gradually becomes unable to focus on objects that are closer in. At that point, the prescription that helps people to see objects clearly at distance is no longer sufficient to see close objects also. Bifocals have an additional power on the bottom part of the lens to aid close focus in presbyopic people so they can see far and close with one lens. Some people who are young can see far away and close with one prescription, then as they age, it becomes necessary to have an addition in power in the bottom of the lens. Bifocals come in many shapes and styles:
A blended bifocal may be any of the above lenses where the line is blended out, leaving a blurry area across where the old line was. A blended bifocal is not a multifocal or progressive lens .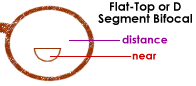 Flat Top Bifocals
This is the most popular bifocal form and is available with the bifocal portion made in a variety of widths to help with various close-up occupations. Flat top bifocals are made in every type of lens material.
Franklin Style (Executive) Bifocals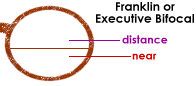 Sometimes used for those who need a wide field of vision for near work (accountants, for example), Franklin style bifocals have a distinctive appearance and are thicker because of their design. They are generally only available in glass, hard resin and photochromatic glass. They are being replaced by wide Flat Top bifocals.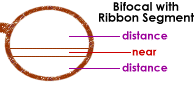 Trifocals
Trifocals come in a variety of designs. Flat-top trifocals are the most widely used form. The added segment provides clear vision at arm's length distance, the area that is usually bluffed for bifocal wearers. Trifocals are available in all lens materials.
Progressives (no line bifocals)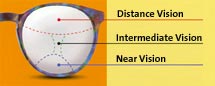 These lenses provide all the benefits of bifocals but add the feature of continuous clear vision at all distances, including mid-range distance (arm's length). Progressives have the cosmetic advantage of appearing to be single vision lenses so they never reveal the user wears bifocals. Progressives are available in all lens materials and also made in aspheric form. Because of their many benefits, they are becoming the lens of choice for bifocal and trifocal wearers.

Like bifocal lenses, multifocal lenses are used primarily to help presbyopic people focus at distance and near with one lens. Multifocal lenses have no segment and no lines in the lenses; the power from the top of the lens to the bottom is smoothly transitioned from distance viewing power through near viewing power, as the user looks downward through the lens. Multifocals have the advantage of offering clear vision over a large range of distances, not just two distances, so multifocal users can see, far, mid-range (computer screen distance) and near all in one lens with no line. Multifocal lenses come in many designs and styles. Typically the multifocal lenses that are the easiest to adapt to and have the widest mid-range and reading areas are more expensive. For people who have not had success adapting to multifocal lenses, it is important to know that there are four factors that determine success in multifocal adaptation:
Brand of Multifocal - Higher-end multifocals are much more successful than lower-end multifocals and can make the difference between adaptation and non-adaptation.
Multifocal measurement and pupillary distance - Measurements for multifocal lenses must be taken by a trained professional. Make sure the optical centers of the frames are properly marked; the pupillary distance (distance from center of one pupil to center of the other pupil) is measured monocularly and binocularly (for each eye individually and together). Improper measurements taken for multifocal lenses are the most frequent reason for non-adaptation.
Frame measurement - Frame measurements are sent into the laboratory properly and frames are adjusted properly on patients face before marking optical centers of lenses.
Patient motivation - Often patient motivation is the determining factor in adaptation to these lenses. If you take the time and wear the lenses regularly without switching to an old pair or giving up, you can adjust. Remember, there is an adjustment period for bifocal lenses also, so which type of lens will you spend your time adjusting to? If a patient puts their time and effort into adjusting to progressive multifocal lenses, they probably will never have to be in a bifocal ever!
A multifocal lens gradually changes curvature, thus power as you go towards the bottom of the lens. The sides Outlined are areas where vision may be warped or Distorted due to the severe curvature change; The center areas are where vision is clear; distance At top parts of lens, midrange in middle and near Towards the bottom.
Tints can be added to eyeglass lenses of all types to provide sun and ultraviolet protection. If you frequently switch from indoors to outdoors, you may want to consider photochromatic plastic lenses such as Transitions lenses, which change from clear inside to dark outdoors automatically.
Perhaps you've never thought about it, but eyeglass lenses can be made from different materials
Plastic: Plastic lenses are much lighter and less breakable than glass lenses. Traditional plastic lenses are made from a hard resin that is cast or molded in the wet state into lens blanks. These plastic blanks can be ground into specific shapes to fit any lens frame. The most common plastic lens material is called CR-39.
High index: For thin, light, and flat lenses. High index is an advanced material that provides significant advantages over traditional plastic or glass lenses. High-index lenses are:
Thinner, so you'll have slimmer glasses and can choose from a wider choice of frames
Lighter, so your glasses weigh less and you'll feel more comfortable
Flatter, so your lenses will bulge less from the frame (and if you are farsighted, your eyes will appear less magnified and more natural in size)
High-index refers to the lens material's index of refraction, or the degree to which it refracts light. The higher index of refraction enables the material to bend light to a greater degree, so less curvature is needed in the lens to achieve a specific prescription power. Because less material is required to produce the lens, lenses are lighter.
High-index materials are available in hard resin plastic and extra impact-resistant polycarbonate plastic. There are also high-index glass materials.
Glass: Good vision correction, but heavy. Glass was the first material used to make eyeglass lenses. While glass can provide remarkably good vision correction, it's heavy and breakable.
Polycarbonate: Thin, light, and extra impact resistant. For maximum impact resistance, polycarbonate is the lens material of choice. Polycarbonate lenses are ten times more impact resistant than conventional plastic or glass lenses. While impact resistant does not mean shatterproof, polycarbonate lenses can give an extra level of protection to lens wearers who have active lives or participate in sports. Polycarbonate is the material preferred for children and teenagers—as well as people who work in certain manufacturing occupations.
In addition to its impact-resistant qualities, polycarbonate is thinner and lighter than conventional plastic or glass lenses—and it comes with built-in ultraviolet protection. These lenses are not yet available in the Indian market.
Scratch-resistant coatings help prevent everyday scratches. Excessive scratching caused by everyday use of eyeglass lenses can compromise your vision and detract from your appearance. Scratch-resistant coatings (also known as a "hard coat") can be added to the front and back surfaces of your lenses to increase their scratch resistance and durability and protect the investment you've made in your eyewear.
The addition of an anti-reflection coating on your lenses will further help protect the surface from scratching—as well as reduce reflections. No matter what coatings you choose for your glasses, you will still need to handle them with care, since no coating can make your lenses completely scratch proof.
Anti-reflection coatings reduce reflections to improve your vision and help you look better in your eyeglasses.
Anti-reflection coatings increase light transmission through the lens, significantly reduce light reflections from the front of your lenses, and virtually eliminate the reflections from the back of your lenses.
This has numerous advantages:

More light can reach your eyes, which increases contrast and clarity so you see better—particularly in low-light situations like night driving.

Lenses appear almost invisible to people looking at you, making your eyes the focus of attention and not your glasses.

Reduced reflections on lenses make a dramatic difference in photographs and on video.

Reflections of your own eyes and eyelashes are virtually eliminated.

Roll over picture to see the difference that Anti-Reflection Coatings make
Ultraviolet (UV) protection protects your eyes from the sun's harmful rays. Ultraviolet (UV) rays from the sun can be harmful to your eyes, and many lenses today come with a UV coating already built in. If the lenses you choose do not, many eye care professionals recommend adding one.
Many parents choose to add a UV coating to their children's lenses to ensure the safety of their eyesight for years to come.
Tints are a great way to make a fashion statement, add comfort for bright light situations or long-distance driving, or reduce glare from computer screens, high-gloss paper, and fluorescent lights. They're easy, affordable, can be applied to virtually any lens, and come in a wide range of colors and degrees of shading. Many eye care offices and optical shops custom-tint lenses in-house in a matter of minutes.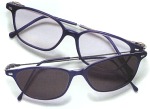 Photochromatic lenses are ones that change from light to dark automatically. They have a built-in adjustable tint that changes with the amount of available light. In bright sunlight, they darken. Indoors, they become clear. They can also help reduce glare that can contribute to eyestrain. Photochromatic lenses are available in almost every lens style, and most have built-in scratch-resistance and ultraviolet protection.
We dispense quality lenses for best comfort and vision.