If you haven't had your eyes examined within the last two years, schedule an appointment now. Routine exams are quick and painless and the only way to ensure good, healthy vision.
Before your exam, your eyecare professional will ask you about:
Your health history
Your family history
Instances of eye problems in the past
Your work and lifestyle
Checking your vision
Next the eyecare professional will check your vision. The vision test will determine if vision problems exist and, if necessary, what prescription to write to properly correct your vision. The test may also include:
Checking eye movement, peripheral vision
A glaucoma test (quick and painless)
Determining the health of your optic nerve and retina
Good vision is important for everyone. Routine eye exams can uncover conditions such as near-sightedness, far-sightedness, astigmatism and eyestrain early on, allowing for fast treatment of most problems. Eye exams can also provide evidence of other serious, but hidden, medical conditions, including high blood pressure, diabetes, inflammations, infections and the hardening of arteries. Eye ailments have also been linked to learning disabilities that can be treated with vision correction.
There is no better time than now to start the habit of regular eye exams for you and your family. If you haven't had an exam within the last two years, schedule one now. During your exam, your eyecare professional will help set a regular schedule for future exams tailored to your personal situation.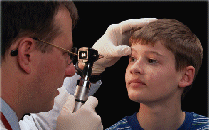 One in four children ages 5 to 12 has an undiagnosed vision problem that may affect their educational performance. Unfortunately, children with vision problems often have no way of knowing that what they are seeing is different than what others see. It is up to the adults in their life to help children reach their potential by ensuring that they are free of vision problems.
All children should have their eyes examined at or before their fourth birthday. If there is a family history of misaligned eyes, childhood cataracts or a serious eye disease, children should have their eyes examined before age three. Vision problems often respond to treatment better during the growth and development of a child's visual system, so early detection could be the key to good vision.
Telltale signs that your child could have a vision problem:
Squinting, rubbing or blinking eyes a lot
Using a finger as a placemark when reading
Holding head at an awkward angle when reading
Closing or covering one eye to focus
Holding reading material close to face
Having red or crusty eyes
Eye examinations are quick and painless, but a child who has never had an eye exam may be quite fearful. To set an example, parents can have their own eyes examined first, while the child watches. This allows the child to see what will happen during the exam and ask any questions. You can then sit with them during their exam to calm any remaining fears.
EYECARE PROFESSIONALS
Ophthalmologists (MD) are medical doctors uniquely trained to diagnose and treat all disorders of the eye. An ophthalmologist is trained in all aspects of eyecare - medical, surgical and optical.
Optometrists are healthcare professionals who diagnose and treat vision problems. They prescribe glasses, contact lenses, engage in low vision rehabilitation and vision therapy and can prescribe certain ophthalmic medications.
Opticians are professionals in designing, finishing and dispensing eyeglasses, and cosmetic and therapeutic contact lenses, based on an eye doctor's prescription. Opticians can not actually prescribe contact lenses.
If you have symptoms of computer eyestrain, get a computer eye exam today.